CD/AD/Keiichi Uemura Dir/Ca/Nicci Keller D/Tomoya Sasaki
inspired by "Party in my mouth" Daito Manabe + Motoi Ishibashi sofrware and hardware by 4nchor5 La6
Pr/Shinichi Kuwabara/Yoshinori Tsukamoto
 Pm/You Kuwabara
Print / Geee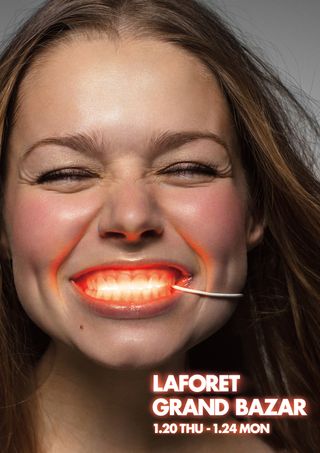 CD/AD/Keiichi Uemura D/Tomoya Sasaki P/Nicci Keller
inspired by "Party in my mouth" Daito Manabe + Motoi Ishibashisofrware and hardware by 4nchor5 La6
Pr/Shinichi Kuwabara/Yoshinori Tsukamoto
 Pm/You Kuwabara
Geee Viral Movie / Harajuku Love Story
CD/AD/Keiichi Uemura Dir/Toshitaka Shinoda D/Tomoya Sasaki
inspired by "Party in my mouth" Daito Manabe + Motoi Ishibashi sofrware and hardware by 4nchor5 La6
Pr/Shinichi Kuwabara/Yoshinori Tsukamoto
 Pm/You Kuwabara
Web / LAFORET GRAND BAZAR Geee Face!
CD/AD/Keiichi Uemura Dir/Shinya Nakamura Web AD/Rio Mochizuki production/amanainteractive inc.
Pr/Yoshinori Tsukamoto
/Shinichi Kuwabara Pm/You Kuwabara
Geee / Making
The concept is based on the Laforet Grand Bazar's lively, powerful and fun atmosphere that everyone can enjoy and get the energy from. The campaign is designed forgenerating the traffic to the Grand Bazar, which starts from 20th of January and ends on the 24th, by causing a huge buzz created by Mouth LED (LED that is installed in person's mouth) 

Creative Director / Art Director/Keiichi Uemura
 inspired by "Party in my mouth" Daito Manabe + Motoi Ishibashi
sofrware and hardware by 4nchor5 La6
http://tokyofashion.com/laforet-grand-bazar-pictures-winter-2011/
CBC NET INTERVIEW
メディアアートと広告の関係。
Geee Face  ラフォーレ原宿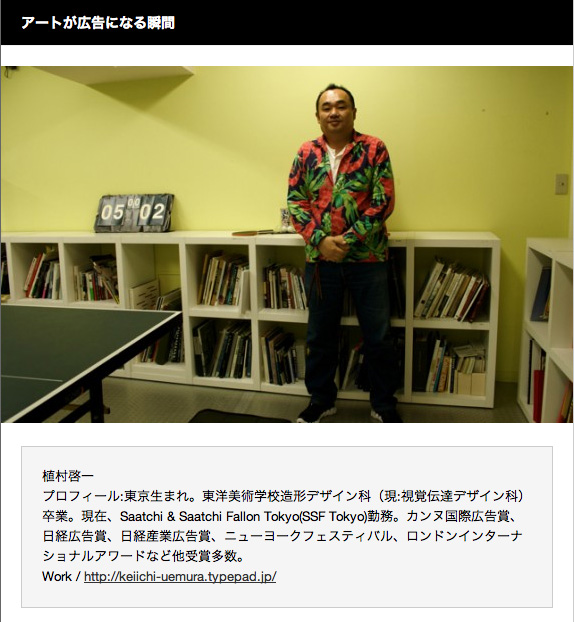 http://www.cbc-net.com/topic/2011/04/geee-face/
© Copyright keiichi Uemra All Rights Reserved.